Screening for Garage Doors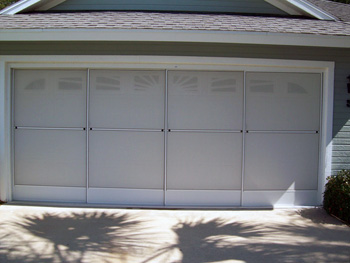 Would you like to increase energy efficiency and add useable space to your home? Our garage door screen installations are made to fit any garage opening from two panel to four panel systems (the typical two-car garage will require a four panel system). There is an abundance of different screen meshes and colors to choose from and adding a garage screen does not in any way interfere with normal garage door function or placement.
Garage door screens provide privacy from the street while encouraging air flow and decreasing the build up of summer heat in the normally closed space of the garage. There are so many possibilities for converting this space into a new living area: your own personal gym, office, studio, playroom, workshop, or entertainment area.
Best of all, garage door screens keep the Florida bugs out! How many times have you tried to do some work in the garage only to be bothered by mosquitoes or other pests? Keep them outside where they belong and enjoy the use of your garage at all hours of the day, year round. Garage door screens are a surprisingly affordable way to beautify the appearance of your home, as garages often turn into cluttered storage spaces visible when the door is open.
As with all of the products East Coast Aluminum is proud to feature and install, our garage door screens are very durable and strong. Get started on this easy home improvement by contacting us for a free estimate on screen enclosures for your garage, pool, or patio today.