Pool Enclosures / Screened Pool Rooms / Lanais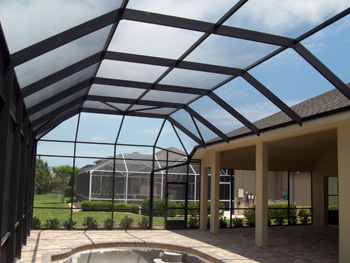 A screen pool enclosure will keep your pool area free from bugs; your pool clean from leaves, grass clippings, and other natural litter; and help provide a safety barrier between the pool and young children.
However, a screened enclosure should never be the only safety feature of your pool. Children should be supervised at all times while in the vicinity of a swimming pool.
Click here to view a gallery of our pool enclosures.
What a pool enclosure is absolutely designed to do is protect you from the environment while you enjoy your pool. You will use less chemicals to clean your pool if it is not totally exposed to the air and airborne debris, and standard screening can reduce harmful UV rays by 15 percent. Upgrade to sun screen and get 70 percent reduction in UV rays, or choose an especially dense bug screen if your family has insect sensitivities.
East Coast Offers several screen roof designs to accentuate your home and pool design to the highest degree possible including mansard, dome, gable, shed, or flat. If you are unsure as to the best choice for your particular property, just ask us and we will advise you. The best pool screening will add value and visual interest to your home.
Here are a few factors that set East Coast Aluminum apart from the competition:
Customer satisfaction is number one.
We use all aluminum gusset plates.
All fasteners are 410 stainless steel.
Automatic door self closures included.
We build above Florida building codes.
Find out why we have been in business for over 20 years. Contact us at (386) 310-7962 or
use the email contact form to get started on your screened pool enclosure or lanai in Daytona, Ormond Beach, or Palm Coast
.