Screen Enclosures / Screen Rooms / Lanais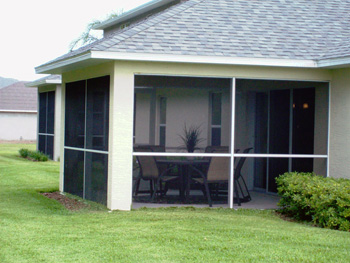 If you are ready to build a new screen enclosed room or addition to your home, you have come to the right place. East Coast Aluminum brings over 20 years of expertise to the table and we stand behind our work 100 percent. We can build a lanai (a commonly used word in Florida to describe a screened enclosure) under an existing roof, such as a front or back porch, or construct a whole new structural addition to your specifications.
We construct screen rooms that will stand the test of time and provide years of enjoyment and increased use of previously lifeless spaces. Add value to your property and protect your family from the sun and insects with a new screened enclosure.
For our high quality screen enclosures, screen rooms, lanais, and additions we offer two styles of roofs:
Non-insulated 12 inch wide roof panels - these are 3 feet tall components that are snapped together to whatever length is required for that particular structure.
Insulated (foam insulation that is three inches thick) roof panels - these are laminated aluminum on each side and four feet wide, adapted to whatever length is needed.
All of our screen enclosures come with 36 x 80 inch screen doors (in options of white or bronze) that include automatic self-closures. Our screen enclosures are installed with an aluminum kick plate at the bottom of  the screen walls and charcoal colored fiberglass screen mesh in your choice of densities.
East Coast Aluminum builds beautiful, useable, and customized spaces for our customers so please inquire about the possibilities of design elements such as internal ceiling fan beams, skylights, and more. Our consultations and estimates are free so let your ideas take shape with our experienced help. Contact us today for screened enclosures and lanais in Palm Coast, Daytona, and Ormond Beach.