Screen Materials and Screen Densities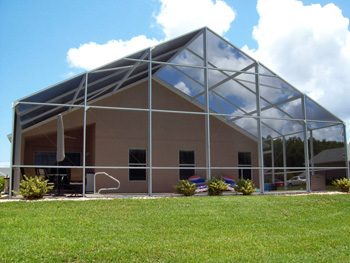 After spending over two decades in the business of screened enclosures for Florida homes, East Coast Aluminum chooses nothing less than the best materials for our screening installations. Fiberglass screen is the industry standard and we have been consistently pleased with the results it gives our customers. This type of screening comes in many different densities, which are custom suited to each particular application:
18 x 14 Mesh Screen - This standard grade of screening has 18 lines across and 14 lines up per square inch.
20 x 20 Mesh Screen - This upgrade from the standard density provides extra protection against small insects.
Florida Glass - This material is actually vinyl laminated to screen mesh, which provides privacy.
Sun Screen - This blocks up to 70 percent of heat and glare as well as UV rays so no sunscreen is needed at the pool! Sun screen comes in white, charcoal, or grey.
Super Screen - This is a very heavy duty screen with an increased lifespan.
Pet Screen - This screening provides protection from damage done by dogs and cats.
The best way to determine the type of screening you need for your lanai, enclosures, doors, garage, or windows is to contact East Coast Aluminum for a free consultation. Let us help you design the best possible screened enclosure for your family's needs.