Hurricane Shutters / Storm Panels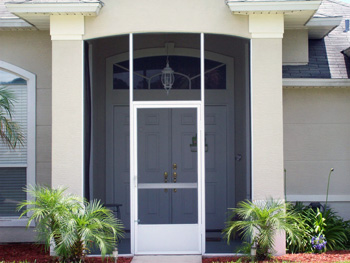 Florida is one of the most beautiful places in the world to live, but during those months of hurricane season it can sometimes seem one of the most nerve wracking. Flagler and Volusia Counties are sometimes hot spots for hurricane activity, and these areas of northeast Florida get their share of high powered winds, intense storms, and tropical weather upheavals. Be prepared for the potential hurricane by obtaining high quality, durable hurricane shutters from East Coast Aluminum.
The damage to both public and private property as a result of hurricanes can be decimating so do not get caught off guard without hurricane shutters for your window openings. Outfit your home with the best in aluminum storm panels and hurricane shutters, and be one step ahead of any category of storm.
Although there may be other options, hurricane shutters are the most economical protection for your home and family. The idea of keeping a structure intact through a storm is to not let any of the wind inside, which occurs when any opening such as windows or sliding glass doors becomes compromised. Let us build aluminum hurricane shutters for you now - the panels are fabricated to be easily stacked and stored until you need them.
How do our hurricane shutters work? The aluminum panels are attached to the walls around windows and doors on bolts and tracks. The panels are corrugated so that each piece overlaps the next for the most strength. There are several styles of hurricane shutters to choose from and we are happy to utilize our 20 years of experience in the aluminum industry to ensure your property is well protected.
We are proud to provide you with peace of mind and dependable customer service. If you are in need of hurricane shutters in the Palm Coast, Ormond, or Daytona area, please contact East Coast Aluminum for a free estimate.