Shingle Roofs / Metal Roofing / Low Profile Roofing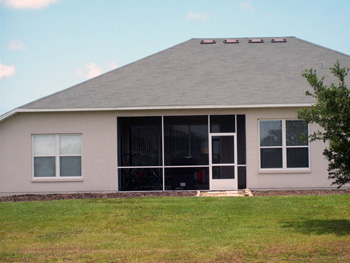 East Coast Aluminum can assist you with a new roof or the replacement of an old one, either in the material you have had in the past or something new that may give you more energy efficiency and durability. We can install shingle roofs, metal roofs, and low profile roofing components. Contact us when you need a new roof and we will review all your options and present you with a free cost estimate for roofing in Palm Coast, Daytona, or Ormond Beach, Florida.
What type of roof is best for you? Shingled roofs are popular and practical because of their affordability and long life span. Architectural shingles tend to be more resistant to hurricane damage than basic shingles or tile roofs. Shingles come in a wide array of versatile colors, but we recommend light colored roofs because they absorb the least amount of Florida sun. The cost of a new shingle roof will depend primarily on thickness, durability, and your area's special needs.
As an aluminum company with over 20 years of experience, we also of course offer metal roofing options. Metal roofs can be the top choice for the modern home because they are fire resistant, energy efficient, recyclable, and require almost no maintenance. Metal roofing is also very visually appealing and there are many styles to choose from. What really sets metal roofs in a class of their own is that they can easily last up to 80 years! Many of our customers find the investment in metal to be the best long term decision for them.
Let us be your source for low profile roofing as well. East Coast Aluminum will provide new or replacement roof installation quickly and professionally. We stand by our reputation for trust, integrity, and value: the type of company you need when it comes to such an integral part of your home as your roof.